Kumagaya Rugby Stadium is called "Japan Rugby's dream stadium in the east." The stadium was one of the game locations for "Rugby World Cup 2019," which excited the whole world. Moreover, Panasonic Wild Knights, who plays in the Top League, will be moving their home ground to Kumagaya in 2021! Rugby Road connects the Rugby Stadium and JR Kumagaya Station North Entrance. Rugernyan, the mascot of Kumagaya City, is the expert of the city. He is thrilled to share his recommended spots along the Rugby Road. You will find out about authentic Kumagaya experience and local souvenirs. Let's enjoy Rugby Town Kumagaya!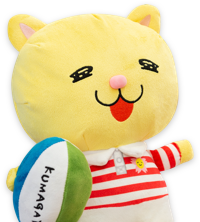 Ruggernyan

Nyaozane, Kumagaya City's mascot character, has become Ruggernyan through his love for rugby and hard training!
About "All Education Academy"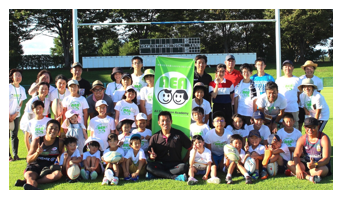 AEA Kids who helped translate this site:
Ayumu, Yuuki, Kaisei, Miku, Rin, Ryutaro, Hanzo, Haruto, Chikanobu, Souta.H, Hirotaka, Asuna, Sakura
We have been working to find volunteering opportunities for children to provide language assistance and local guide to guests from overseas who are visiting Japan. Under the theme "Education is series of small projects that works to change the society", we hope to contribute to the society by bringing out the tremendous power within children.

Link to AEA's Website